Hemdale/Haemorrhage/Meat Spreader CD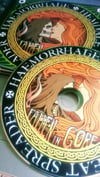 4 PANEL DIGIPACK LIMITED TO 500 COPIES
The whole world has been waiting for this split!
Three biggest Gore Grind bands have met on this one release to destroy your ears!
Each of them has their unique style that simply cannot be copied!
This 3 way opens with Spanish Haemorrhage – nearly 30 years on stage, countless gigs and releases.
They've prepared two tracks: a brand new one made specially for this split and a cover version of Pungent Stench song – about 9 minutes of music!
The American legends Hemdale, who have just come back after some years, present us with 5 new tracks made exclusively for this collaboration!
The split closes with Meat Spreader, made of ex members of Dead Infection, Squash Bowels and Neuropathia. Is there anything else to add?Merciless Grind Core Gore with three brand new songs made specially for this release!
What are you waiting for? Get your copy now because this 3 way is strictly limited to 500 copies!